A WONDERFUL EXPERIENCE
Gary Barlow, Princess Beatrice, Sara Ferguson, Bruce Forsyth, Rod Stewart, Only Men Aloud were just some of the famous people who attended Cauldwell Children's Charity night at Battersea Evolution, London on May 31st 2012. The evening raised in excess of 1.5 million pounds which was a wonderful achievement and Simon Raine was honoured to be invited as the event manager for the evening.

2013 is Fables 27th Year in the leisure industry

Since 1988 Simon Raine has created a name for himself amongst Blue Chip companies, Stately Homes, prominent American businessmen, leading charities and even cabinet ministers. Currently Simon is the longest serving manager of Christmas Parties in a marquee in the Country having looked after over 200,000 customers!

FABLES FAMILY DAYS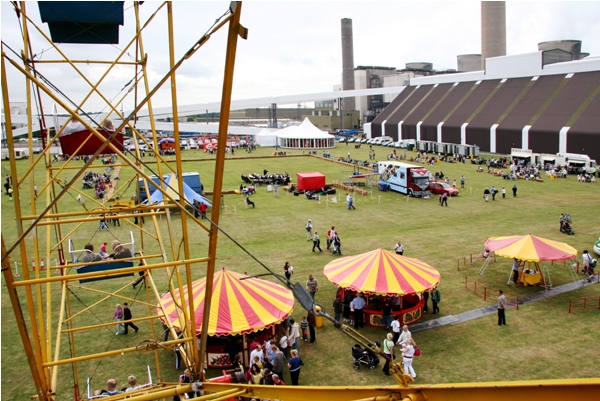 Ratcliffe-On-Soar Family Day 2009

If you require a family day and require 20 years of experience organising such events then please give Fables a ring. Organisations who would testify to our skills include E-ON, Thrumpton Hall, Experian, DHL Aviation, Channel 5, National Forest and Catton Hall. (see feedback page) Prices start from as little as £6,000 for Family Days of up to 1,000 people.

" I wanted to write to congratulate you and your team for ensuring that everything went according to plan on Saturday. Everyone who attended has said how much they enjoyed the occasion and remarked on the excellent range of entertainment. You certainly have an eye for detail and this made my job less stressful, which I appreciated throughout, and I will have no hesitation in recommending your Company for any similar future events."
E-ON UK (2007)

FABLES COACH TOURS (new list, see Tours and events)

2013 New trips - Four days in Plymouth, Dartmouth & Polperro first weekend in October, Three days in Mumbles, Swansea & Hay on Wye April 20th.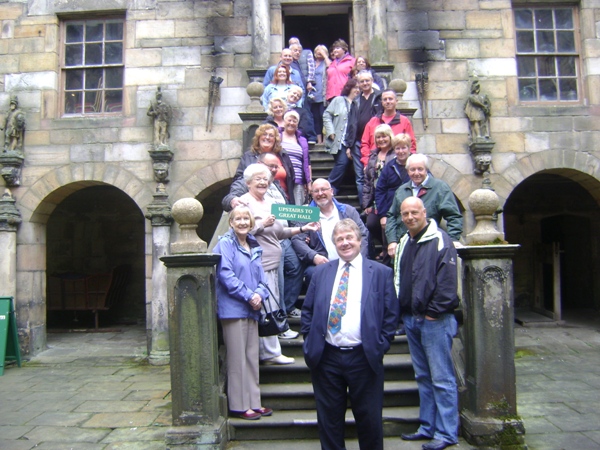 Chillingham Castle, Ron Todd (driver) and customers 2011

What a fantastic twenty one years we have enjoyed. (Over 100 customers with more than fifteen years travelling with Fables)! Small yet caring, Fables have 200 odd like minded, young at heart (and mostly body) friends who love to enjoy themselves. Like a little club but with no rules or joining fee Fables Fantasia have survived and flourished as well as entertained over 10,000 people! Once smitten, people either come along with us for years and years or never return, but whichever they choose they never forget and always receive a gift!! For further details on quality themed weekends / short breaks / top seats for London Shows & Xmas markets please see tour page or e-mail simon@fablesevents.co.uk

"Ecstatic, excellent, wonderful, memorable, clock-work, first-rate, perfect, delightful, legendary, exciting and an honour to travel with you for 20 years!"
Sample of words from 10,000 people! (1992-2011)

FABLES GOLF TOURS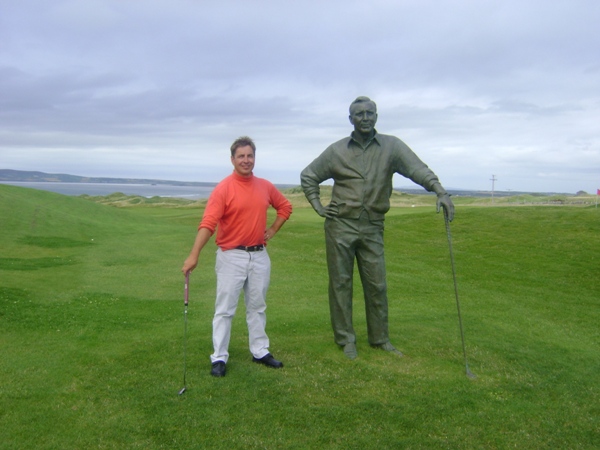 Picture of Simon at Tralee Golf Club 2009

Over ten years experience in organising golf tours. Fables charge £500 for up to 8 golfers for one weeks golf passing on all commission savings with golf courses and hotels! Our knowledge, connections and professionalism along with the peace of mind you are paying a fair price for three days work ensures everyone wins, and that's before you even play a hole!" On behalf of the "German Party" I would like to thank you for your assistance in putting together our recent golfing tour of Scotland. The arrangements and accommodations were marvellous. Everyone on the trip had an absolutely splendid time, and the good weather certainly didn't hurt."
Sherrard, German & Kelly, P.C. - Pittsburgh U.S.A. - (1993)


FABLES SIGHTSEEING TOURS

With over 20 years of looking after over 10,000 people and visiting nearly every region of the British Isles Fables are experts in advising and tailor making your themed tour. Simon Raine has visited over 200 Country Houses and taken over a 1,000 people to major tourist / sporting attractions like Royal Ascot, Chelsea Flower Show and Goodwood Festival of Speed. We charge £500 for up to a 7 day tour for 8 people or as little as £20 per head for organising 50 customers travelling by coach with tickets and restaurant booked in advance plus a courier. Hence with Fables you get complete transparency with our prices.

" Well - didn't they have a wonderful time.The girls have been full of compliments on the organisation and smooth running of the whole day - they said you looked after them extremely well, so much so that they have reserved their places for next year!"
Bass Leisure (1994)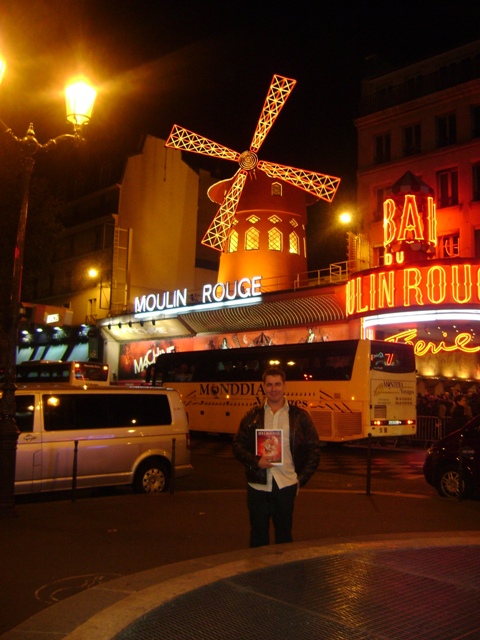 Moulin Rouge


Fables specialize in organising weekend breaks to include medieval banquets, murder mystery evenings, 1940's nights, motor racing events and London theatre evenings with accommodation and transport.

"Thank you for your organisation of the Murder Mystery Weekend at Walworth Castle. They have all expressed how much they have enjoyed it and how good the hotel was, especially those with four-poster beds!"
Nottingham Building Society (1997)


NOTTINGHAM CHRISTMAS PARTIES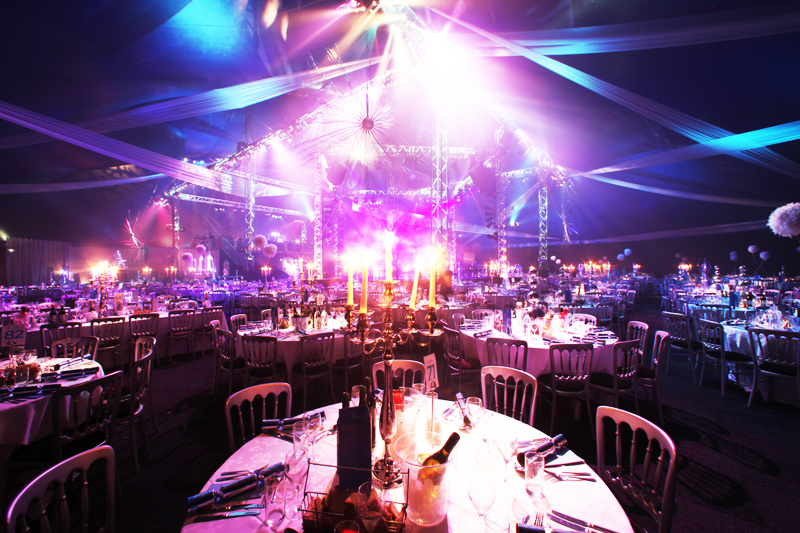 Nottingham Christmas Company

Simon Raine is proud to have managed the Nottingham Christmas marquee since its inception 16 years ago, and is the longest serving manager in the Country at Xmas marquee parties. Acquired by Vivid Experience Ltd in 2009 the product has undergone a thorough revamp and is now once again " the talk of the town" and the place to be seen in December.
It's distinctive marquees, dramatic theming, jaw-dropping entertainment and superb dinner are just some of the highlights thousands of customers enjoy each year. Why not visit www.nottinghamchristmasparties.co.uk and request a brochure / book on line.
For groups of 50 or more or any enquiries on our sell out Emergency services night please ring Simon Raine on (0115) 9374147 or e-mail simon@fablesevents.co.uk

" A big thank you for a wonderful evening on Monday. Everybody fully enjoyed the evening from the exciting entertainment to the excellent and well presented food. Once again, thank you very much for a great evening and I am sure this event will be considered for future Christmas parties."
University of Nottingham Union - (1999)


FABLES CORPORATE GOLF DAYS

7th October 1988 was the very first corporate golf day held at Royal Birkdale Golf Club. Since that date Simon Raine has been asked to host numerous bespoke golf days for Companies, Charities as well as support golf clubs with their own celebrations.

Prices can start for as little as £1,500 which includes recommending and booking the course, arranging prizes, speakers, starter, all aspects on the golf day itself, liasing with the management of the golf club with regard to tee times, hire of course and meals etc.

"After researching the market place we all agreed to appoint a professional company to manage the event on the Group's behalf. At all times proceeding the event, Simon attended to every detail with meticulous care. Nothing was overlooked. On the day itself, despite the worst possible for golf, the day ran smoothly and the Fables Events team excelled themselves with the quiet and efficient way they handled the whole occasion."
Robert Smith Group - Liverpool (1988)

STATELY HOMES

Since 1992 Simon Raine has worked very closely with Thrumpton Hall, Catton Hall, Holdenby House and Grimsthorpe Castle. During this time Simon has either supported, managed or created large family days, festival, music nights, bonfire nights, summer and garden shows for over 200,000 people.

In addition Simon has organised about 30 weddings, numerous summer parties, cricket matches, open road events, clay pigeon shooting, archery and quad bike racing.

"Mr Simon Raine of Fables , has worked with me on numerous occasions, and has organised several events at Catton Hall. He has run our annual Country Fair for three years, and has always performed his duties with skill and dedication. In my opinion he is honest, hardworking and totally reliable, and I would have no hesitation in recommending him as a suitable person to organise an event, either large or small."
Robin Neilson - Catton Hall - (1998)

FABLES TREASURE HUNTS

Fables Fantasia have produced four bespoke treasure hunts covering East Derbyshire, North Leicestershire, South and East Nottinghamshire. If you require a different day out in the countryside with a meal for up to 17 cars then give Fables a ring as our prices start from as little as £350 for the day. That works out at £10 per person plus pub food and a fabulous day out in the Countryside enjoyed by all.


" Whilst writing I would like to take this opportunity to say how much everyone enjoyed the car treasure hunt last year -everything went very smoothly and it was obvious to all that it had been arranged by a professional. I feel confident that this year's treasure hunt will be no exception and also look forward to using your services again next year."
The Boots Association (1993)